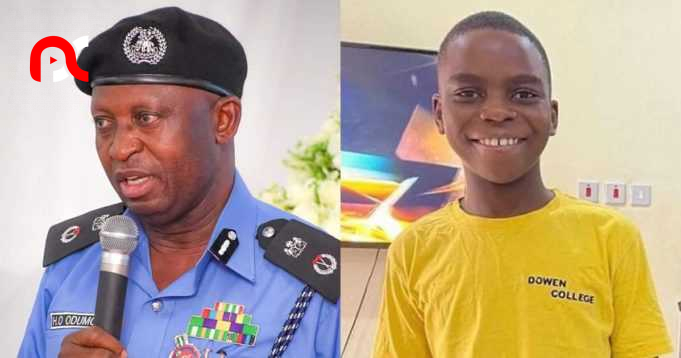 Hakeem Odumosu, the Lagos State Commissioner of Police in a press briefing held on Friday afternoon, shed more light on the death of Dowen College student, Sylvester Oromoni.
While addressing the press, Odumosu affirmed that two autopsies were carried out on Sylvester's body, in Lagos and Delta State and both results indicated that he died of natural causes.
According to the police chief: "A post mortem examination was initially carried out on 2nd December 2021 by a Consultant Pathologist, Dr. Clement Vhriterhire of the Central Hospital, Warri, Delta State. The result of the first autopsy dated 10th December 2021 attributed the cause of death to 'acute lung injury' due to chemical intoxication in a background of blunt force trauma."
Odumosu explained further that: "The second autopsy was carried out at the Lagos State University Teaching Hospital on 14th December 2021 in the presence of representatives of all parties involved in the case. The second autopsy was carried out by Dr. S.S Soyemi, the Consultant Pathologist and the Chief Examiner, Department of Pathology and Forensic Sciences, Lagos State University Teaching Hospital, Ikeja, Lagos."
The police chief stated that the "result of the second autopsy carried out in Lagos was released on 21st December 2021. The result attributed the cause of death to 'Septicaemia lobar pneumonia' with acute pyelonephritis and pyomyositis of the right ankle."
Commenting on the allegation of torture, bullying, and forceful intake of poisonous substance, Odumosu said all suspects denied the allegations and there is no evidence to establish the allegation after a thorough investigation by the police. He also noted that the students interviewed concerning the allegation of the deceased being forced to join a cult group were also denied.
Odumosu explained to the press that the families of the remanded students applied for bail before the expiration of the 21 days remand order at a Magistrate court in Yaba and the application was approved, hence the students had been released before the end of the 21 days remand order.
It was earlier alleged that the deceased, Sylvester Oromoni, a student of Dowen College, Lekki, Lagos State, was assaulted and forced to take poisonous substances by some cult members while in the school hostel.
Source
Linda Ikeji