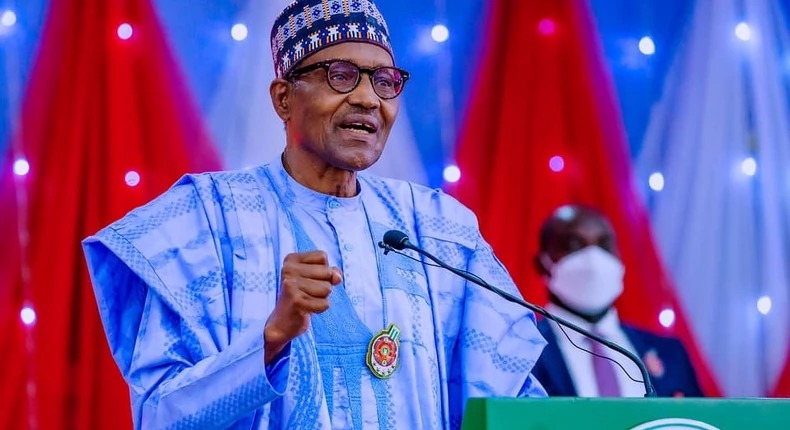 Despite insisting his government will end insecurity before leaving office in 2023, Buhari has insisted that there is need for divine intervention.
As the Nigerian government continues to tackle insecurity, President Muhammadu Buhari has said there is need for divine intervention in ending insecurity in Nigeria. President Buhari made this disclosure at the national prayer session organized by the government of Kano State on Saturday, January 8, 2022. Barely two days earlier, Buhari had assured Nigerians of his administration's commitment towards ending insecurity before exiting office in 2023.
Represented at the prayer session by the Minister of State for Agriculture Mustapha Babai, President Buhari noted that Nigerian security agencies have been supported with equipments and their welfare catered for.
"Despite the support, there is a need to seek divine intervention for the Almighty to bring an end to the challenges,'' Buhari opined.
"I am very happy with this initiative. Indeed Ganduje is doing well in securing Kano and has given his quota to achieving peace in the country at large.
"No doubt, Nigeria is facing security challenges and we are doing our best to support the security personnel. That does not mean we should not seek divine intervention. This prayer session is part of the interventions and I commend the state governor for this."
Governor Abdullahi Ganduje of Kano State during his remark hailed the efforts of President Buhari in ensuring the 'Centre of Commerce' (Kano) is well secured. Ganduje also corroborated the president's remarks about the insecurity situation in Nigeria and opined there was need for divine intervention in the fight against insecurity.
Nigeria's Northern Nigeria has seen heightened insecurity. Prior the emergence of Buhari as president in 2015, the region was confronted with Boko Haram terror attacks. Despite moving the military headquarters to Borno State, the activities of the terror sect has not ceased. Rather, banditry and kidnapping has been added to the list of security challenges confronting the West African nation.
Source
Pulse NG