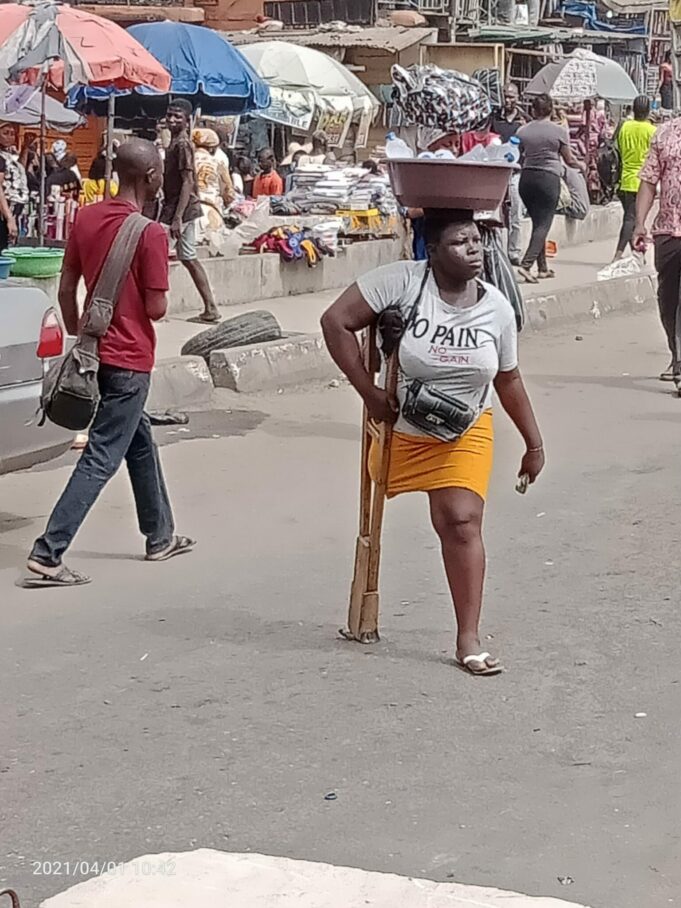 Viral Amputee Hawker in Lagos, who claimed to have lost a leg in a terrible accident that claimed the lives of her parents has been exposed for deceit.
It was revealed that the said hawker was lying about her condition to extort money from unsuspecting sympathizers.
Photos of the hawker who is identified as Mary Daniel, went viral across social media platforms, attracting sympathy from Nigerians at home and in diaspora.
In an interview, Mary narrated how her parents died in a ghastly motor accident while she was still a little child, leaving her with an amputated leg; how her grandmother took over her welfare, and how she took to the streets in order to make ends meet.
After her interview, Nigerians across the globe donated what amounted to 25 million naira and the Lagos state government also arranged a suitable house for her.
However, it was revealed on Thursday that the hawker had lied, her father was alive and she was amputated from birth.
In a statement to The Nation, Commissioner of Police Hakeem Odumosu said:
"It was discovered that contrary to her claim that her parents died during an accident that left her amputated, it was discovered that her father is very much alive and that she was amputated from birth.
"It was also discovered that her presence in Oshodi was staged. Those working with her played on the intelligence of Nigerians to get donations for her.
" It came to light when the people started threatening her. She promised some N500,000 others different amounts and was planning to return to her home state when the information leaked.
"I had to attach some policemen to her to prevent any attack on her when she went to the bank. We suspected those people might follow her but everything went well as they were not seen.
"Presently, the state government is preventing her from accessing the money.
"The government does not want a situation where it will become a trend for people to cook up stories, manipulate the people to get donations".
Sources:
Yaba Left Online
The Nation
Featured Image Source: Yaba Left Online