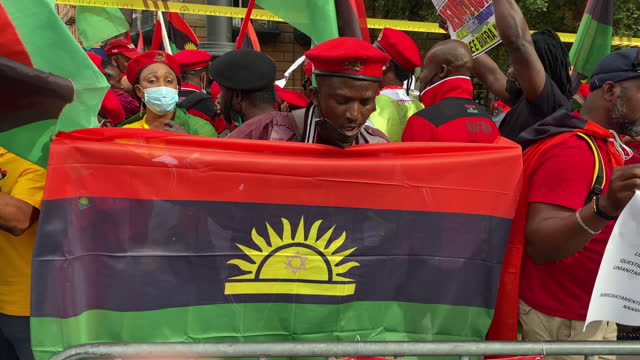 The Indigenous People Of Biafra (IPOB) has alleged that plans are ongoing by the Nigerian government to kill the legal representatives of its detained leader Nnamdi Kanu.
Nigerian secessionist group IPOB has accused the country's government of plotting to kill the lawyers of its leader Nnamdi Kanu who has been in custody of the Department of State Security (DSS) and arraigned in court for charges from the Nigerian government. The group said the government wants the lawyers Ifeanyi Ejiofor and Aloy Ejimakor assassinated "over their committed efforts in the defence of our leader.''
IPOB's media and publicity secretary Emma Powerful made the allegations public in an official statement on Friday, October 29, 2021. The group noted that the "Nigerian government is not happy with the expertise and professional prowess of these veteran lawyers and other members of the legal team to deflate the fabricated charges against our leader, hence, their plot to eliminate them.''
"Intelligence report at our disposal also indicates that this covert plan extends to the elimination of Mazi Benjamin Madubugwu, Bright Ishinwa, Chidiebere Onwudiwe and David Nwawuisi.
"Several state coordinators are also on their elimination list, handed down by the Nigerian government to its security agencies'' the group added.
IPOB alleged that the President Muhammadu Buhari led government intends to eliminate Kanu's lawyer through "compromised security agents'' who according to the group have decided to "eliminate Nnamdi Kanu's lawyers once they step into any part of the South-East.''
The group urged the international community to pay attention to the "atrocities'' happening in Nigeria. Nnamdi Kanu will appear in court again on Wednesday, November 10, but IPOB has threatened to impose a six-day lockdown in the South-East if Kanu is not released from detention by November 4.
Source
Pulse NG