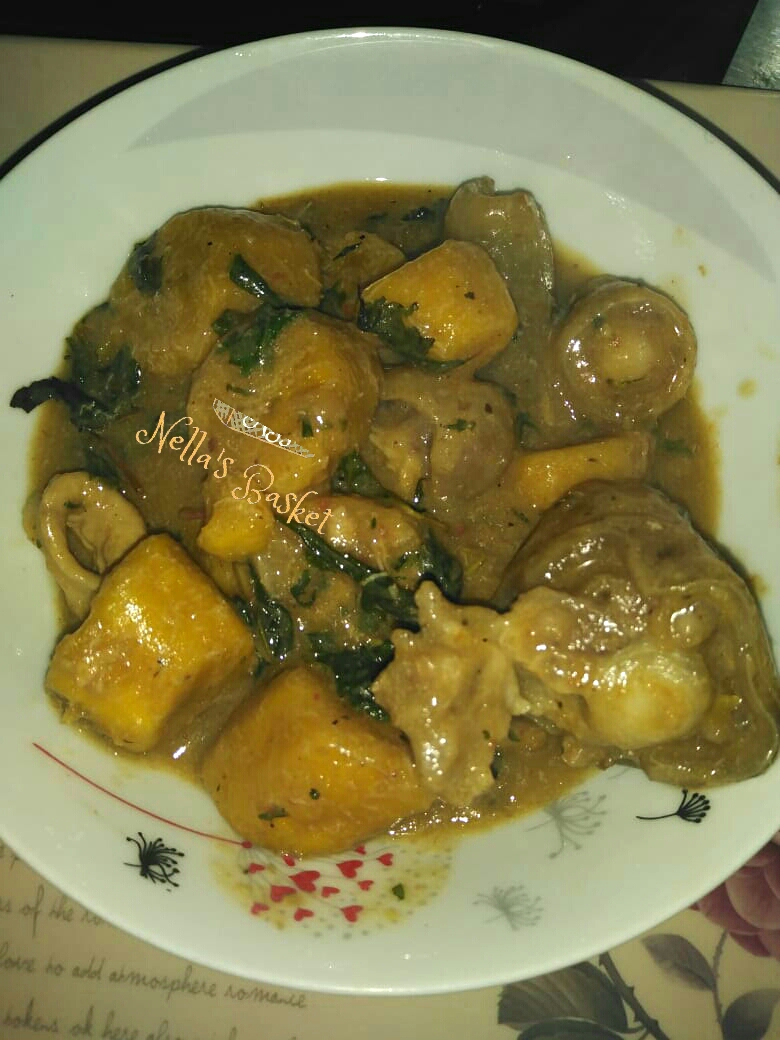 Cross River State is a part of Southern Nigeria that is well known for her varieties in local assorted meals. In fact, there are meals you will never find elsewhere safe in Cross River. She is blessed with so many natural foods and resources which are not only nutritious but also delicious and ravishing, making you taste for more. Among these unique and ravishing meals, is a blend of Plantain and Cow Tail.
This is a simple but special meal served on special occasions. It can also be used to serve special guests at home, or simply give yourself and family a treat. Let me guide you through the cooking process.
How to make Plantain and Cow Tail
Ingredients:
Unripe Plantain (mature one)
Cow Tail
Scent Leaf (Nchuawu)
Groundnut Oil (Kings or Power Oil preferably)
Crayfish
Fresh pepper
Seasoning cubes
Salt
Dry fish (optional)
Procedure
1. Wash the cowtail and put in a pot and set on fire. DO NOT SEASON IT.
2. When the meat is almost soft, cut the unripe plantain into large but not too large chunks and add into the pot.
3. Add more water to the pot, enough to cover the plantain and the cow tail, and then allow to boil.
4. Add the blended crayfish, blended fresh pepper and dry fish and allow to boil. Add seasoning cubes and salt to taste.
5. Wash the scent leaves the same way bitter leaves are washed until the water is no longer dark but clear.
6. Once the plantain is getting soft, in other for the porridge to be thick, use a wooden spoon and keep stirring the boiling meal until u notice it is becoming thicker. Then add groundnut oil and allow to boil for at least 3 minutes.
7. Add the washed scent leave and stir. Don't forget to taste the porridge. By now, the plantain and cow tail will both be tender enough
8. Turn off heat and serve

Voila! Your plantain and cow tail porridge is ready!
This is a healthy and savoury meal which can be served to any one regardless of age or health condition. I highly recommend you to serve this on your next occasion! You'll get an amazing feedback from your guests.
HAPPY COOKING!
Featured Image Source: Nella's Basket