El-Rufai Defies Twitter Ban, Shares Tweets From Abroad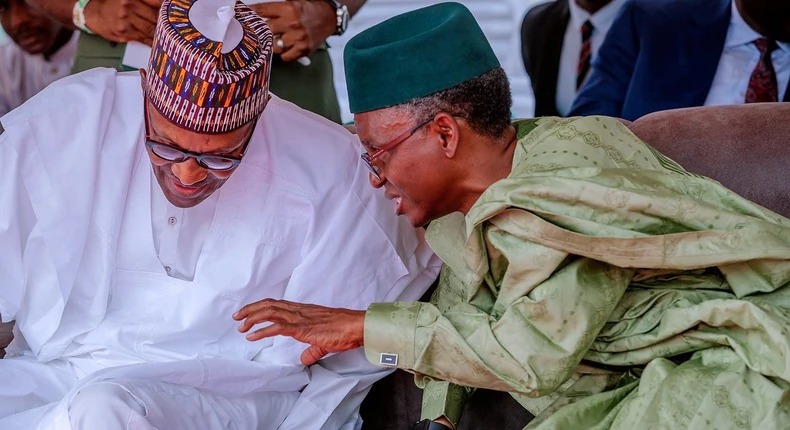 The governor of Kaduna State couldn't resist the urge to use the micro blogging platform banned by the federal government, noting that being outside the country grants him the right to do so.
Former Minister of the Federal Capital Territory Nasir El-Rufai has defied the Nigerian government's Twitter ban and released few tweets. El-Rufai who is currently serving his second term as the governor of Kaduna State marked his return to the social media platform by acknowledging a tweet from a Nigerian who hailed his accomplishments as FCT minister.
El-Rufai replied to a tweet which said: "I really wish we will get more @elrufai in politics. The man left FCT and till date, the Federal Capital Territory has not been able to have another FCT minister that's close to the shoe latchet of Elrufai in terms of courage, administration, performance & focus. 14 years ago o.''
Replying to the tweet, El-Rufai who has come under fire for his treatment of workers in Kaduna said: "This is an exaggerated compliment @dmightyangel but thank you for some of the words of encouragement. God Bless our nation. – @elrufai.''
When quizzed about how he accessed Twitter, El-Rufai said he is not in Nigeria, noting that his absence from the country for some days permits him the right to use the platform banned by the government of Buhari.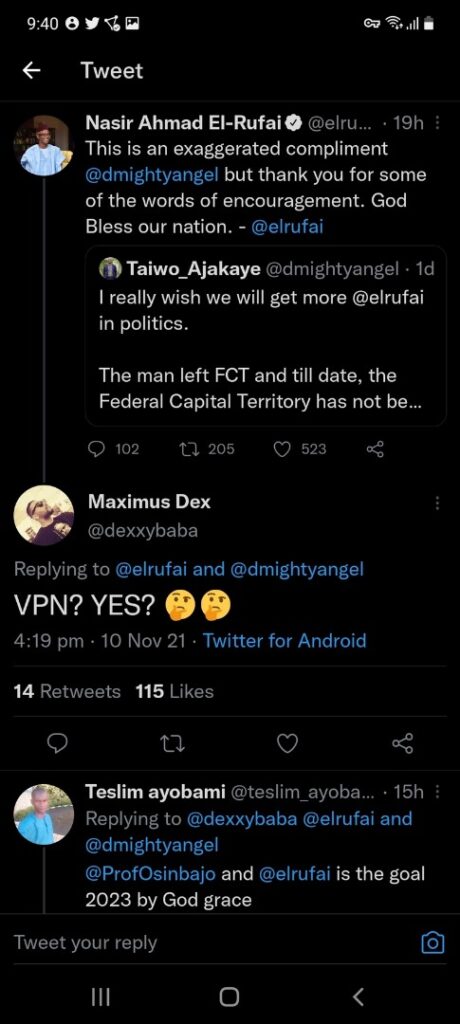 In a sarcastic reply, activist Rinu Oduala said: "The only place you get freedom of speech is outside Nigeria.'' But El-Rufai said: Wrong @SavvyRinu! Conflating Twitter with "freedom of speech" is a significant exaggeration. Freedoms of many descriptions existed before and without Twitter, and will remain long after!! Enjoy your day.''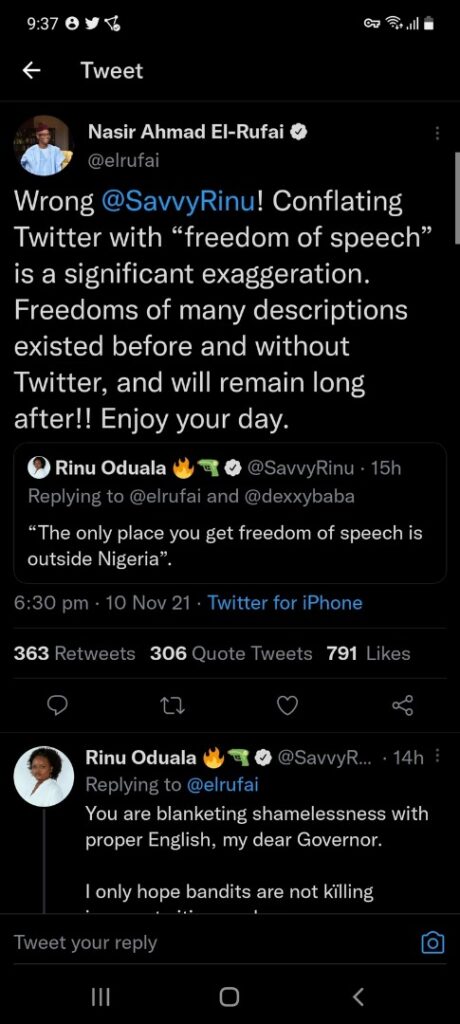 The ban on Twitter in Nigeria is a strong point for critics of President Buhari's government especially as regards the suppression of the freedom of speech. Though the government has promised to lift the ban soon, citizens are not taking their word for it as they have used internet tools such as VPN to access the network as noticeable in the conversation between El-Rufai and users.
Source
Pulse NG
Featured Image Source: Presidency