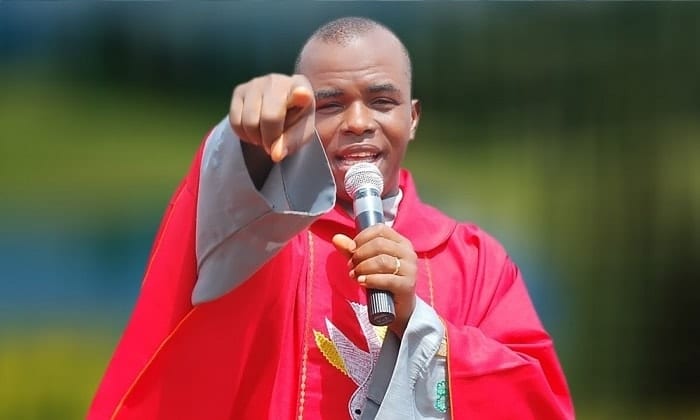 "They want to kill themselves not me,'' alleges Mbaka.
Controversial fiery priest of the Adoration Ministry Enugu, Nigeria, Reverend Father Ejike Mbaka has raised yet another alarm over an alleged plot to scandalize him by capturing him with prostitutes.
Father Mbaka made this known while giving his New Year speech at his church in Enugu. According to him, he had been called up to a meeting with the Bishop of the Enugu Diocese, Callistus Onaga, who had warned him on his constant face-offs and exchange of words with the government. Mbaka further stated that they had told him to stay away from the adoration ministry and his home for 30 days.
Mbaka further explained on the plot to picture him at brothels with prostitutes while returning from the meeting with the Bishop. The preacher however claimed that he acted on the instructions of the 'Holy Spirit' not to come down from his car or park anywhere after he left the meeting with Bishop Onaga.
In Mbaka's words:
"I didn't know I was being tracked… They planned to capture me that night and drag me to Cubana (Hotel) and take me to Mobil where prostitutes stay and then take me around (there) and then, show video of me in the place (Brothel) so that people would ask what Mbaka was searching for in brothel.
"Then, they will again, drag me to Igboeze, another spot for Prostitutes. That's where they planned to naked themselves, not me. So, then people would begin to ask what I am doing naked in prostitutes' spots. Then, they will take me to Abuja and the story will be much, they will kill themselves, not me."
He further alleged that the evil plots of his enemies were to eventually finish him off with the scandals that would lead to the end of his ministry, career, and life.
It could be earlier recalled that the controversial cleric had earlier predicted victory for President MohammaduBuhari but had fallen out with the President due to bad governance and corruption that had persisted under Buhari`s watch.
Source
Linda Ikeji