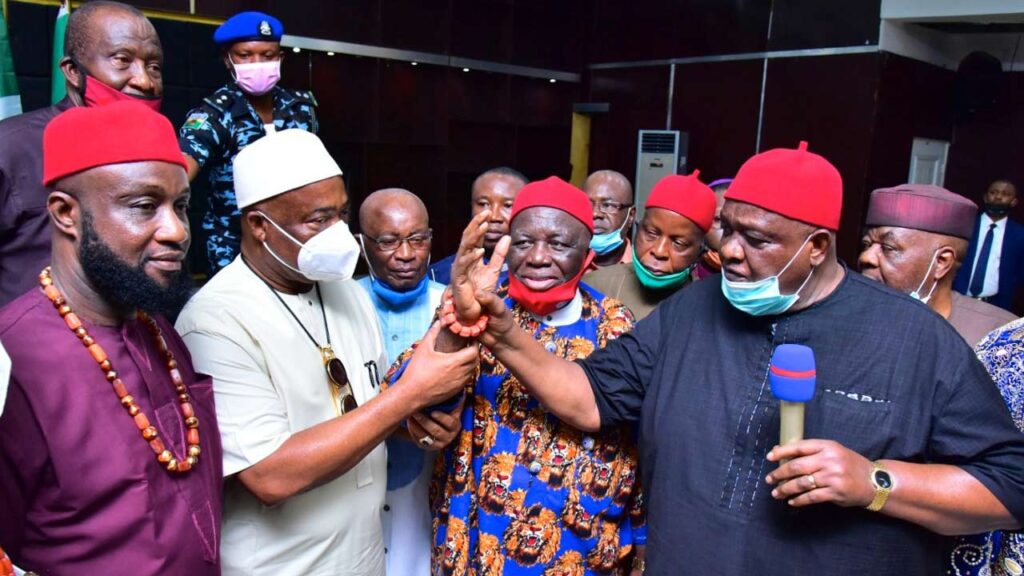 Tinubu has informed President Buhari of his intention to become Nigeria's next president.
Ohanaeze Ndi Igbo, the apex Igbo socio-cultural organization has stated that Bola Tinubu will lose his bid to succeed President Buhari as it is the turn of the Igbo people to rule Nigeria.
Chief Alex Ogbonnia, the spokesperson for the organization stated this on Monday, January 10, in reaction to Tinubu's declaration to run for the office of the President in 2023.
Ogbonnia opined: "The declaration by Tinubu is an assertion rooted in history and experience that any project that is not supported by justice and equity will not succeed. It is a project that is dead on arrival because God is a universal entity that he is always interested in truth, fairness, and equity."
The Igbo chieftain further said: "Anybody embarking on anything that is not rooted in equity and justice will not succeed and this is a countervailing force that has sustained this world from the beginning. So Tinubu knows that he is embarking on a cause that has no foundation in anything: foundation in equity and justice, and of course is a project that will not succeed.''
Chief Ogbonnia considers Tinubu's ambition as a threat to Nigeria's existence.
"He knows that this is the turn of the Igbo and instead of supporting the Igbo to emerge for peace to reign, for the corporate existence of Nigeria to remain intact, he decided to add to the problem and crisis", Ogbonnia said.
Tinubu had on Monday informed President Buhari of his intention to run for the presidency in 2023 during a visit to the Presidential Villa.
Speaking with journalists after the meeting, Tinubu answered when quizzed about his intention: "I answer that with a categorical yes. I've informed the President of my intention, but I have not informed Nigerians yet. I'm still consulting. And I have no problem consulting. And I've not set a parameter of limitation to the extent of how many people I will consult.You will soon hear; all you want to hear is the categorical declaration. You've got that truth from me that I have informed Mr. President of my ambition, and you don't expect more answers than that."
Source