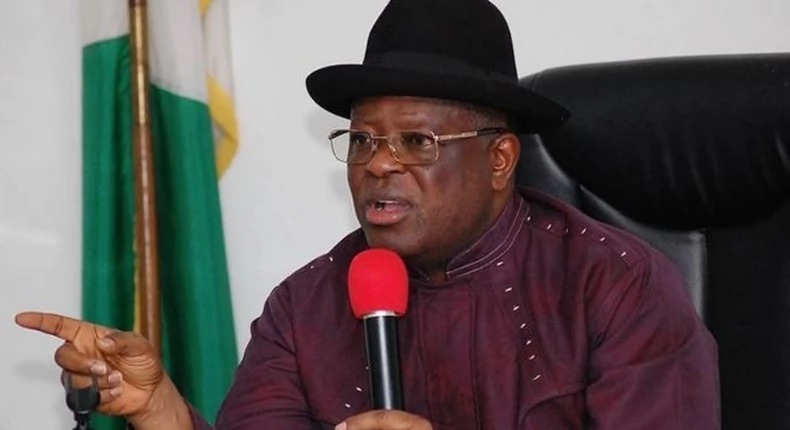 Umahi has made his presidency ambition known to President Buhari.
Ebonyi State Governor David Umahi has strongly declared that the South-Eastern state will never participate in the struggle to birth the Biafra nation.
The governor while speaking at the Ecumenical Centre, in the state's capital, Abakaliki, reaffirmed that the Ebonyi State government ably led by his administration is firmly resolute and committed to the even and overall progress of the nation and had no intentions of seceding from the Nigerian Federation.
"First and foremost, I have been saying it. If anybody tells you about Biafra, Ebonyi State will never be part of Biafra. We are not Biafra,'' the governor emphasized.
Commenting further, the governor highlighted that the state which had long been relegated was simply picking up its grounds in terms of ground-breaking infrastructures and developmental projects and is not willing to trade any of these progressive advancements to the fight for the actualization of the Biafra nation.
"We have been so oppressed and now we are finding our feet and you want us to go back. We will not. We will not," Umahi declared.
Speaking on his presidential ambition, Umahi reiterated his passionate desire to lead a united and formidable Nigeria. He further dissuaded Nigerians to dispel the rumours that any Southeasterner who occupies the seat of the presidency will divide the nation. Rather, he claimed to further join hands to build the country.
"Let nobody be afraid of the Presidency of an Igbo man. The Igbo man is a builder and not a destroyer. There is no Igbo man that will be the President of this country and would like to divide or destroy it because we have investments everywhere,'' Umahi pointed.
"Some enemies of the South-East say if we become President we will divide the country. How will we divide the country? We have investments everywhere."
He further affirmed that the Igbo people had investments spread across the country and were not willing to see the nation go separate ways. Pledging his support to the nation, he asserted that the state was comfortable in a 'fair' and 'equitable' Nigeria and had nowhere to go.
Recall that Governor David Umahi dumped the People Democratic Party (PDP) in November 2020, for the Ruling All Progressive Congress (APC) and declared his interest to contest for the office of the president in 2023 General election on Tuesday, January 11, 2022.
Source
Pulse NG