Charly Boy Calls Eedris Abdulkareem An 'ungrateful son'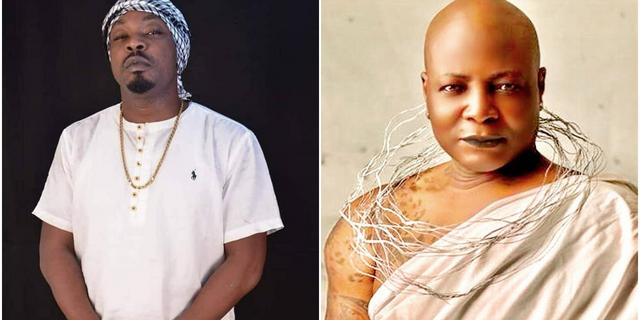 Charly Boy recounts the controversy that transpired between 50 Cent and Abdulkareem.
Charles Chukwuemeka Oputa, popularly known as Charly Boy has called Nigerian music veteran, Eedris Abdulkareem, an 'ungrateful son' while recounting an incident between the 'Nigeria Jaga Jaga' singer and American star, 50 Cent, in 2004.
Charly Boy stated this via his Instagram handle.
"The people wey know dis story go tell you say after I show 50 Cent pple craze, I made dem leave Nigeria dat day back to the States, forgetting the rest of their Nigeria tour," the post read.
The-71-year-old musician stated that he fought for Eedris Abdulkareem's interest during the incident, and tagged him an 'ungrateful son' for what he perceives as show of disloyalty from Eedris Abdulkareem.
In his words: "For beating my ungrateful son, I drove dem back to America. Sometimes in life, the people dat you fight for fight you back out of ignorance."
Reacting to Charly Boy's claims, Abdulkareem released a video via his Instagram handle, slamming Charly Boy who was the chairman of the Performing Musicians Association of Nigeria when the incident occurred. Eedris Abdulkareem called the 'Area Fada' a fake activist and accused him of collecting 70 million naira from Nigerian Breweries to blackmail him and also destroyed evidence of the event recorded by DJ Tee.
"Shut up! You collected 70 million from Nigerian breweries to blackmail me. You also collected the evidence of the attack by 50 Cent and the G unit from DJ Tee who recorded everything that happened in the plane on that faithful day. You are a betrayal and a fake activist. You are all about money not leadership," Abdulkareem stated.
Remember, American music star, 50 Cent, and his crew were in Nigeria in 2004 for the annual 'Star Mega Jam' concert, sponsored by the Nigerian Breweries. Eedris Abdulkareem was part of Nigerian artists selected to perform at the concert. An incident ensued while he and other Nigerian artists were on board the same plane with 50 Cent and his crew, which led to the departure of 50 Cents from Nigeria.
Source
Pulse NG
All Africa