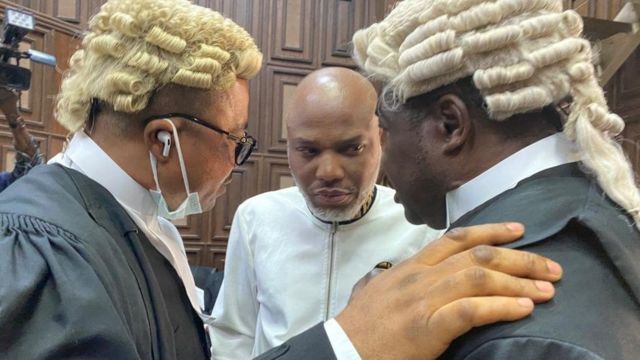 Kanu is facing a 15-count charge.
Leader of the Indigenous People of Biafra (IPOB), Nnamdi Kanu, has pleaded 'not guilty' to the fresh charges filed against him by the government on Wednesday, January 19, 2022 at the Abuja Federal High Court.
Nnamdi Kanu objected to the 15 count charges brought against him bordering on allegations of treasonable felony and terrorism by the Nigerian government.
While pleading not guilty to charges, the pro Biafra agitator asserted that an ample sum of the new charges were similar.
After Kanu's plea, the prosecution counsel led by Barrister Labaran Magaji urged Justice Nyako of the Abuja Federal High Court to proceed with the trial. He further added that he had two witnesses in the court room to testify against the detained secessionist.
However, the defense counsel was quick to counter the commencement of the trial. Barrister Mike argued that the trial could not proceed without first attending to the petitions that the defendants had submitted.
"We have served the prosecution with two fundamental documents. We have generated a preliminary objection. We urge the court to discharge and acquit the defendant because there is no basis for the charge to stand,'' the defense counsel pointed.
"We cannot go into trial without addressing the pending applications.
"The very applications are fundamental and intrinsic to the hearing and determination of the 15-count charge."
In a swift response, Barrister Labaran stated that he received the application late and needed more time to attend to the petition.
"You cannot file a process on the same day and it will be heard. Constitutionally, we have a right to look at the court papers and see whether to reply or not," the Prosecution lawyer responded.
Justice Nyako ruled that the application of the defendant challenging the authenticity of the filed charges be sorted out first and adjourned the case in order to hear the defendant's petition.
Meanwhile, Justice Nyako questioned why the IPOB leader was still in his regular attire after she had ordered that he changed his clothes. Mr. Labaran replied that Kanu had chosen to remain in the designer's outfit. He also added that the DSS had provided a new mattress, blanket, and pillow to make the detained agitator comfortable.
Kanu's lead counsel, Mr. MikeOzekhome (SAN) dispelled the claim that his client chose to wear the designer's outfits despite court orders. He stated that they had been unable to send him new clothes because Tuesday was not part of his visiting days. He assured that the new outfits would be posted to him on his next visiting day.
Speaking to pressmen after the court session, Ozekhome tackled the 15-count charge brought against his client tagging it as 'worthless , watery, and dead on arrival '. He assured that by the next hearing when the evidence is presented, his client would walk home freely discharged and acquitted.
The court is expected to reconvene on February 16, 2022 by 1 pm.
Source
LIB