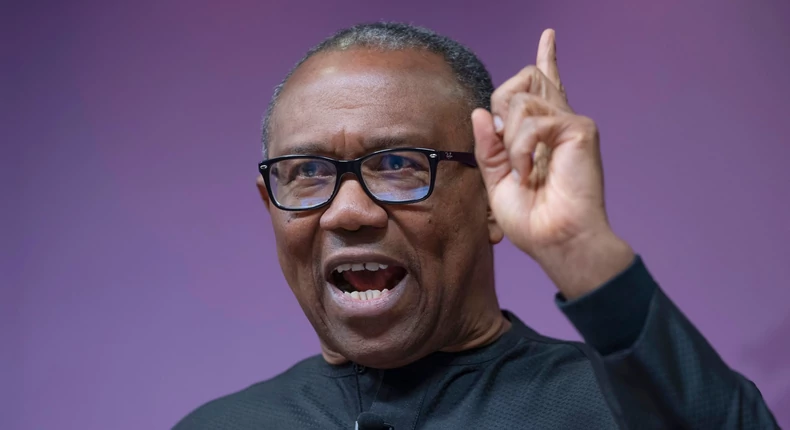 Peter Obi insisted that he has never threatened national security through his words or actions.
Peter Obi has blasted the federal government over allegations that he is inciting insurrection," which can be interpreted as "treason.''
Obi lost the February 25 presidential polls to the candidate of the ruling All Progressive Congress (APC), Asiwaju Bola Ahmed Tinubu, but vowed to prove in court that he won the election.
The former Anambra State governor has since filed an electoral petition challenging the result of the polls which were marred by violence and electoral malpractice.
Information Minister Lai Mohammed alleged during an interactive session with international media organizations in Washington, DC, on Tuesday that Obi and the Labour Party's vice presidential candidate, Datti Baba Ahmed Yusuf, were committing "treason" by "inviting insurrection.''
"Obi and his Vice, Datti Ahmed cannot be threatening Nigerians that if the President-elect, Bola Tinubu of the All Progressives Congress (APC) is sworn in on May 29, it will be the end of democracy in Nigeria,'' Lai said.
"This is treason. You cannot be inviting insurrection, and this is what they are doing.
"Obi's statement is that of a desperate person, he is not a democrat that he claimed to be.''
Obi, who contested for Nigeria's presidency under the platform of the Labour Party, blasted Lai for his comments through a series of tweets and insisted that he has never made any moves aimed at disturbing national security.
Related: Peter Obi Will Be Arrested- Kanayo Alleges
 "In the past few days, I have observed various campaigns of calumny directed at my person, with the latest being allegations attributed to the information Minister, Lai Mohammed from Washington DC," Obi started.
"It is most unfortunate that these consistent efforts to portray me quite contrary to what I am, and my core values, is coming from such high quarters.
"Minister Lai accusing me of stoking insurrection is totally malicious and fictitious.
"I have never discussed or encouraged anyone to undermine the Nigerian state; I have never sponsored or preached any action against the Nigerian state.
"Those initiating these actions have increasingly used their official positions and agents to make false allegations against me.
"I am on record as always, advocating for peace and issue-based campaign and never campaigned based on ethnicity or religion. I am committed to due process, and presently seeking redress in the court."
The Department of State Security (DSS) said last week that they had uncovered a plot by some political elements to impose an interim government aimed at stopping the inauguration of Bola Tinubu on May 29.
They failed to disclose the identity of the alleged plotters.