Cynthia Morgan Calls Davido's Fans "Ignorant and unintelligent" Over Birthday Donation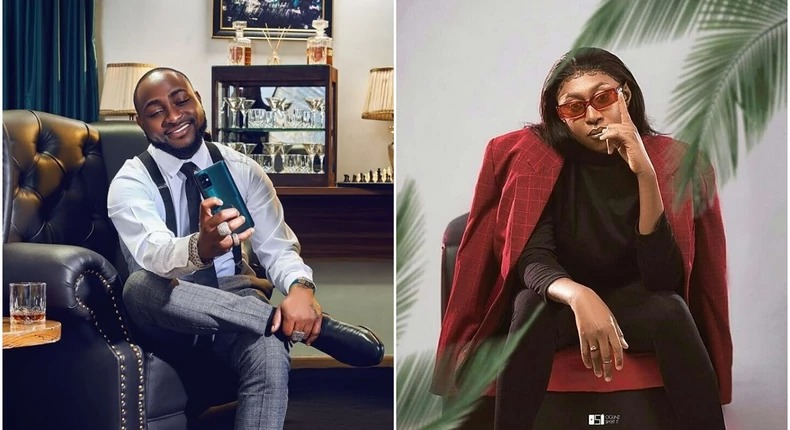 Morgan has been consistent with criticism for Davido after he failed to fulfill his promise of a free collaboration with her in 2020.
Singer Cynthia Morgan has called out fans of fellow artist Davido after she was dragged over her views on Davido's monetary donations which have seen him get over a 100 million naira in few hours.
Davido in a test of loyalty had asked his friends to make monetary donations for him ahead of his birthday, but Morgan in an indirect Instagram stories post said: "If you have to compel people to celebrate you, it means there is nothing to be celebrated.''
Fans of the 'Fem' crooner would come for Morgan, but she decided to go a bit more directly in expressing her view on the donations, saying in another post: "I said what I said and you can all kill yourselves."
Morgan who has not gotten any reply from Davido went further to throw more jibes at the multi-award winning singer describing 1 million naira which the singer had asked loyalist to donate as "chicken change'' as seen in the images below.
However, Morgan would later focus a bit more on Davido's fans, describing them as "ignorant and unintelligent'' while also noting that she is not surprised at their "foolery" in a post.
Morgan's beef with Davido started in 2020 after the 30 Billion Gang boss promised to help save her career with a free collaboration after she said she had lost everything after ending her professional relationship with Jude Okoye. Davido at the time tweeted: "Cynthia Morgan call me…Tell Cynthia Morgan I got an anthem for her… I'll record my verse now.''
Davido would fail to fulfill his promise and Morgan in another interview in December 2020 would claim the singer had not picked her calls or replied her messages in three months.
"I tried to reach out to David after he asked online that I call him but he did not pick my call or reply messages," Morgan said.
In a bid to clear the air, Davido's manager Asa Asika came in his defense and said his collaboration with Morgan failed because he (manager) didn't think her verse for the collaboration was good enough for the market.
"I actually do not like her verse. That is actually one of the reasons why we have not used the song. I personally do not like the song and I told David that I did not like it," Asika said.
Sources
LIB
Daily Post
Punch
Jaguda
Featured Image Source: Pulse NG