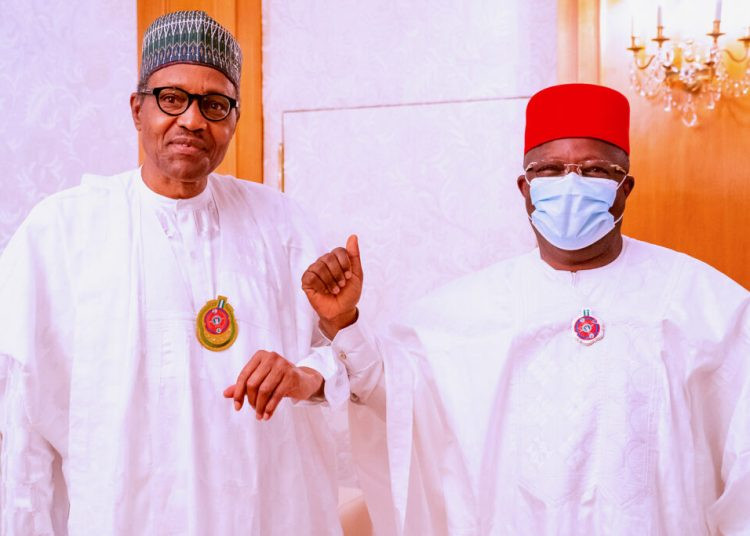 The Ebonyi State governor is the first candidate from the South-Eastern region to declare his intention to run for office.
The battle for who will emerge as Nigeria's President in the 2023 General elections just got tougher as governor of Ebonyi State David Umahi met with President Muhammadu Buhari on Tuesday, January 11, to declare his intention to run for the position.
Umahi also made his intentions known to pressmen after his meeting with President Muhammadu Buhari at the Presidential Villa.
The Ebonyi State governor also revealed that President Muhammadu Buhari advised him to make wide consultations with the masses and other political leaders in the country over his ambitions. He maintained that he is undeterred by his fellow opponent, opining that he is not "in a contest with anyone but himself" and "by strength shall no man prevail". Umahi further added that God would decide whoever would win the election cum 2023.
Commenting further on his ambition, he reiterated his desire to bring a business like spirit into governance and replicate top notch developmental projects going on in Ebonyi state at the national level.
Speaking on the situation of the country, Dave Umahi affirmed his determination and commitment to restore peace to the country and promote a non-ethnic based government.
On the issue of insecurity in the South East region, the governor who also heads the South-East Governor's forum claimed that he supports the issue of political solution to the security problems bemoaning the region. He added that the unrest in the Southeastern region could be brought to a halt if leader of the Indigenous People of Biafra (IPOB) is ready to engage the government in a peaceful dialogue.
Umahi's declaration comes barely 24 hours after APC National Leader, Asiwaju Bola Ahmed Tinubu declared his intentions to contest for the seat of the presidency in the forthcoming 2023 General elections. Both men belong to the ruling All Progressives Congress (APC).
It will be recalled that the governor dumped the Peoples Democratic Party to join the ruling All Progressives Congress (APC) in November 2020. Although there had been speculations that he was seeking a ticket for the presidency in the forthcoming 2023 general election, he publicly denied that as a reason for his switch to the APC.
Source
Linda Ikeji