Delta Church Collapses, 10 Feared Dead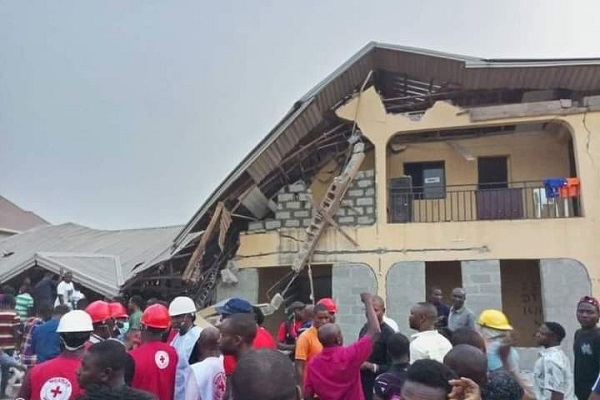 Tragedy strikes in Delta State as Church building collapses leaving many trapped, scores injured, and others feared dead.
At least 10 persons have been reportedly feared dead, scores injured and many others trapped as the Church building of The Salvation Ministries collapsed, in the Okpanam Community, Oshimili North Local Government Area of Delta State on Tuesday, January 11, 2022.
The Church building collapsed during an evening program while worshippers gathered to commemorate the ongoing 21 days fasting and prayer exercise.
It was gathered that the ugly incident which occurred a few minutes before 6 pm saw the church building fall apart from the children's section while the service progressed, leaving scores of children trapped in the collapsed building.
Further reports noted that the one-storey building of the church had been vacant for a couple of years before the church took over the structure which was originally designed as a plaza. The ministry had taken over the upstairs for its activities.
Speaking on the incident, one of the church members and eye witness identified as Grace Ibe, stated that while service was ongoing, they heard a thunderous noise and the building collapsed.
"We were clapping and praying when suddenly we heard the cracking and the building swallowed the children section with the children," she said.
Reacting swiftly to the incident, the Secretary to the State Government, SSG, Chief Patrick Ukah, the State Commissioner for Health, Dr. Ononye Mordi, a team of Red Cross officers, and fire firefighters were on the ground on a rescue mission to save trapped members.
Church members, worshippers, family members of victims and sympathizers were spotted panicking and wailing as frantic efforts were made to rescue trapped victims.
Eight persons have reportedly been taken to Asaba Specialist Hospital for treatment as policemen and community members have continued to further rescue other trapped members in the buildings.
Source
The Nation