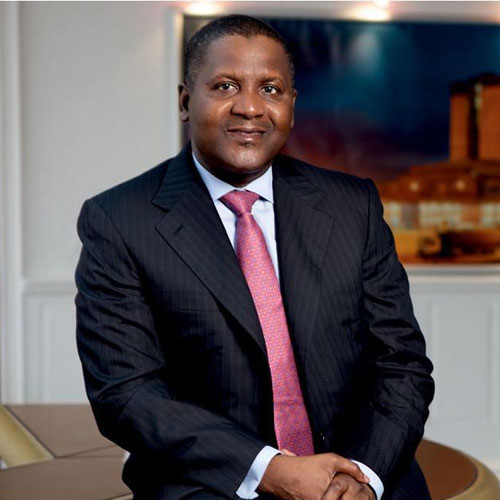 In the recent edition of the Forbes Top 10 Billionaires in Africa, popular Nigerian businessman, Aliko Dangote, retained his position as the richest man in Africa for the eleventh consecutive time, with a fortune of $13.9 billion. He began his business empire, the Dangote Group, about three decades ago. Read on for five things you should know about Aliko Dangote.
Background
Aliko Dangote was born in Kano State, Nigeria on the 10th of April 1957 to a wealthy Hausa Muslim family. His mother, Mariya Sanusi Dantata, was a granddaughter to Alhassan Dantata, making him a great-grandson to the richest man in West Africa as at when he died in 1955. He spent much of his childhood with his grandfather, Sanusi Dantata, after the death of his father in 1965.
Education
He started his education at the Sheikh Ali Kumasi Madrasa in Kano, from where he proceeded to Capital High School, in Kano also. At the age of 21, Dangote graduated from one of the most prestigious universities in Egypt, the Al-Azhar University, where he studied Business Studies and Administration.
Business
Dangote started doing business at a tender age. He once stated: "I can remember when I was in primary school, I would go and buy cartons of sweets [sugar boxes] and I would start selling them just to make money. I was so interested in business, even at that time".
On the contrary, Dangote didn't start his business empire with cement. After the completion of his degree in 1978, Dangote borrowed his start-up capital from his uncle. He used the loan to start the importation of sugar and rice from Brazil and Thailand respectively. Today, the business has expanded to cement, food processing, manufacturing, and freight, operating in Nigeria, Ghana, Zambia, Benin, and Togo.
Marriage
Dangote has been married and divorced twice. He has three grown-up daughters, Mariya, Halima, Fatimah, and an adopted son, Abdulrahman Fasasi. During an interview on "Lunch with FT", Dangote stated that his busy schedule is inhibiting him from marrying another woman.
"I'm not getting younger. Sixty years is no joke. But it doesn't make sense to go out and get somebody if you don't have the time," the billionaire pointed out.
Charity Activities
In 2013, the Aliko Dangote Foundation began a partnership with Bill and Melinda Gates to eradicate polio in Africa. In 2014, the Federal Government announced the donation of $750,000 from Dangote to stop the spread of Ebola.
Sources
Forbes
Wikipedia
Investopedia