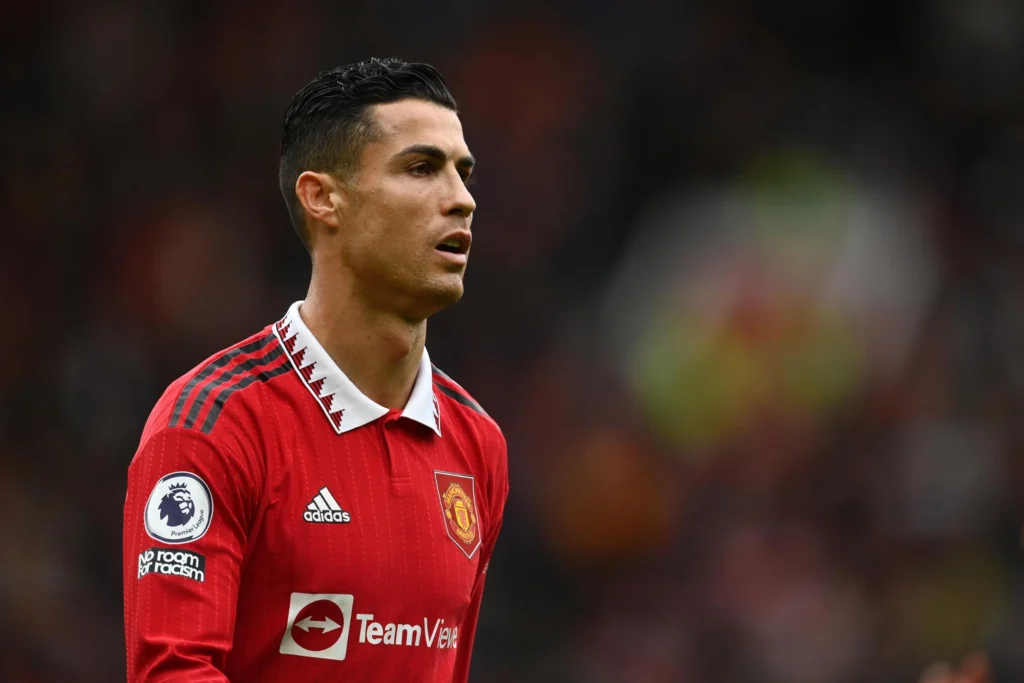 Ronaldo made some revelations in an explosive interview with TalkTV.
Manchester United star, Cristiano Ronaldo, has said he feels "betrayed'' by the English club for trying to force him out and noted that he has "no respect'' for the club's current manager, Erik ten Hag, because the Dutch tactician "doesn't show respect for me.''
Ronaldo made the disclosure in an explosive interview with Piers Morgan on TalkTV which was released by The Sun on Sunday night, November 13, 2022. The Portuguese national team captain said there has been "zero progress'' at Manchester United since Sir Alex Ferguson decided to retire in 2013.
Quizzed on the possibility of the club's hierarchy trying to force him out, Ronaldo replied:
"Yes. Not only the coach, but the other two or three guys around the club. I felt betrayed.''
When asked again if senior executives at United wanted him out, Ronaldo said:
"Honestly, I don't know. I don't care. People should hear the truth. Yes, I feel betrayed. Some people don't want me here not only this year, but last year too…I don't know what's going on. Since Sir Alex Ferguson left I have seen not evolution in the club. The progress was zero.''
Ronaldo faulted the appointment of Ralf Rangnick after Ole Gunnar Solskjaer was sacked.
"For example, an interesting point is how a club like Manchester United sacked Ole (Gunnar Solskjaer), they bring in a sporting director Ralf Rangnick which is something nobody understands. This guy is not even a coach! A big club like Manchester United bringing in a sporting director surprised not only me but all the world. Nothing changes. Not only the jacuzzi, the pool, even the gym. Even some points of technology, the kitchen, the chefs – who I appreciate, lovely people! They stop in time which surprised me a lot. I thought I would see different things, technology, infrastructure. Unfortunately, we see many things I'm used to seeing when I'm 21, 22, 23. It surprised me a lot.''
On Erik ten Hag, Ronaldo said:
"I don't have respect for him because he doesn't show respect for me. If you don't have respect for me, I'm never gonna have respect for you.''
The former Real Madrid star asked to leave the Red Devils in the summer despite finishing as the club's highest scorer in all competitions with 24 goals the previous season. Ronaldo said he granted the interview because:
"I think the fans should know the truth…I want the best for the club. This is why I come to Manchester United. But you have some things inside that don't help (us) reach the top level as City, Liverpool and even now Arsenal…a club with this dimension should be top of the tree in my opinion and they are not unfortunately. As Picasso said, you have to destroy it to rebuild it, and if they start with me, for me, it's not a problem. I love Manchester United, I love the fans, they're always on my side. But if they want to do it different…they have to change many, many things.''
Ronaldo also talked about his former teammate, Wayne Rooney, who said he was at the risk of becoming an "unwanted distraction'' at the club. The Portuguese man aimed a dig at the retired English star, saying:
"I don't know why he criticises me so badly…probably because he finished his career and I'm still playing at a high level. I'm not going to say that I'm looking better than him. Which is true…''
Commenting on the role Ferguson played in his return to United, the former Juventus star said:
"I followed my heart…He (Sir Alex) said to me, 'It's impossible for you to come to Manchester City,' and I said, 'OK, boss'.''
When asked about what Ferguson thinks of the club's current situation, the five-time Ballon d' Or winner said:
"He knows better than anybody that the club is not on the path they deserve to be. He knows. Everyone knows. The people who don't see that… it's because they don't want to see; they are blind.''
It is left to be seen what action United's hierarchy will take following Ronaldo's outburst. The five-time UEFA Champions League winner will lead Portugal to the World Cup and might be forced to leave the club in the January transfer window.
Source
Sky Sports