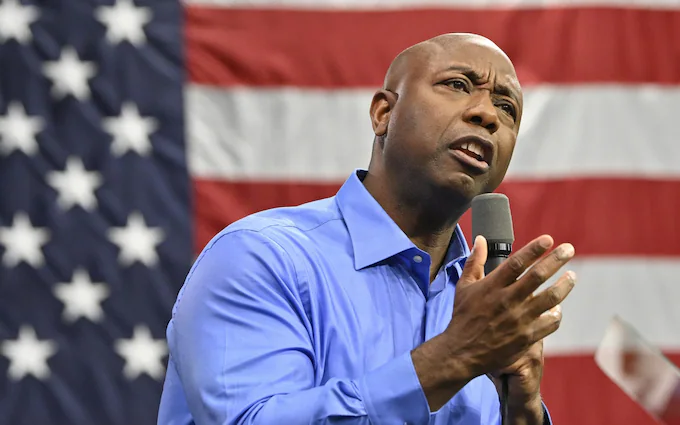 Tim Scott believes he can beat off competition from the former US President at the party level before doing the same with President Biden if they both emerge from their respective parties.
The only black Republican Senator in the U.S., Tim Scott, has officially declared his intention to run for the US presidency under the platform of the Republican Party, former President Trump's stronghold.
Scott, 57, highlighted his personal experiences as the poor child of a single mother during a speech in his North Charleston, South Carolina, hometown.
The senator said his story is proof that America is a country filled with opportunities and called out President Joe Biden and other Democrats, whom he believes are stoking racial division for the interests of their party.
"Joe Biden and the radical left are attacking every single rung of the ladder that helped me climb,'' Scott said.
"And that's why I am announcing today that I am running for president of the United States of America."
Scott faces an uphill task in getting the presidential ticket from the Republican Party due to the influence of former President Donald Trump.
Related: Trump Officially Declare Interest To Run For US Presidency In 2024
A poll conducted by Reuters showed that Scott had only 1% support from registered Republicans compared to Trump's 49%.
The governor of Florida, Ron DeSantis, is expected to join the presidential race in the coming days, a move that might lessen Scott's chances.
However, Scott will be banking on his personal life stories and the fact that he is popular in South Carolina, which plays a huge role in the Republican presidential ticket race.
Scott is also a donor favourite with strong support from fellow lawmakers.
Republican Party's N0.2 Senator John Thune introduced Scott before his speech on Monday, which had in attendance Oracle co-founder Larry Ellison.
Billionaire and owner of Twitter, Elon Musk, has on two occasions retweeted material from the campaign Twitter account of Scott in recent days.