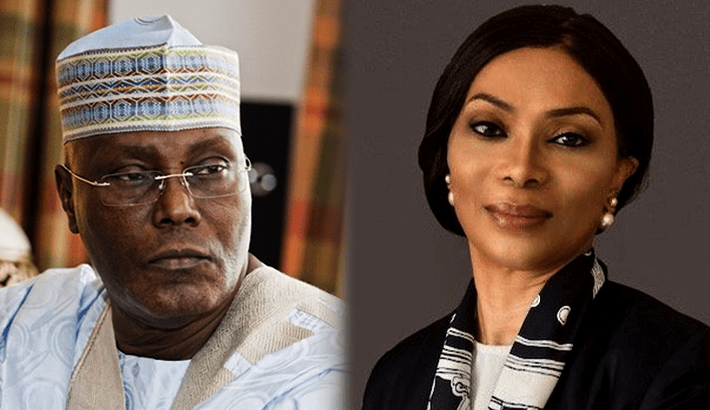 Jennifer is one amongst the politician's numerous wives.
Former Vice President of Nigeria, Atiku Abubakar has been divorced by one of his wives Jennifer Douglas, few years after his marriage to his new Moroccan wife. Jennifer confirmed her divorce from the former Peoples Democratic Party (PDP) presidential aspirant on Monday, January 31, 2022.
Also, Jennifer discarded earlier claims that rumoured she was divorcing Atiku because he married a new wife, noting that she was aware of the customary and religious ethics of her ex-husband and was unbothered about the new marriage. To prove her point, she revealed that she invited the Moroccan wife to her son's wedding in Dubai in 2018 and congratulated Atiku when she put to bed.
On the real reason behind their divorce, she disclosed that it was linked to the constant disagreement over her stay at the UK amidst other 'long-standing issues.'
The estranged ex-wife of the VP also denied putting up Atiku's Dubai house for sale and insisted that she was willing to return the documents of the house on demand. Also, Jennifer stated that Atiku retrieved his assets which he previously willed her upon serving him the divorce notice and asked her to sort herself since she was the pioneer of the divorce bid.
"The Matrimonial home in Asokoro where we reside was gifted to me by him, even before we moved into that home from a previous residence. Indeed, His Excellency caused his Private Secretary to process the DEED of assignment documents for the house, which he did and handed me the documents. I then commenced processing the title to the property,'' Jennifer noted.
"During the initial mediation discussion, Excellency denied that he gifted the house even after I showed him the document with the signatures of his aide, his Excellency asked me to give him the deed of gift. "When I asked him, where will I and the kids stay when we come to Nigeria?," he told me that since I am the one that asked for a divorce, I should find a place to stay, and subsequently, I moved out.''
Source
Punch