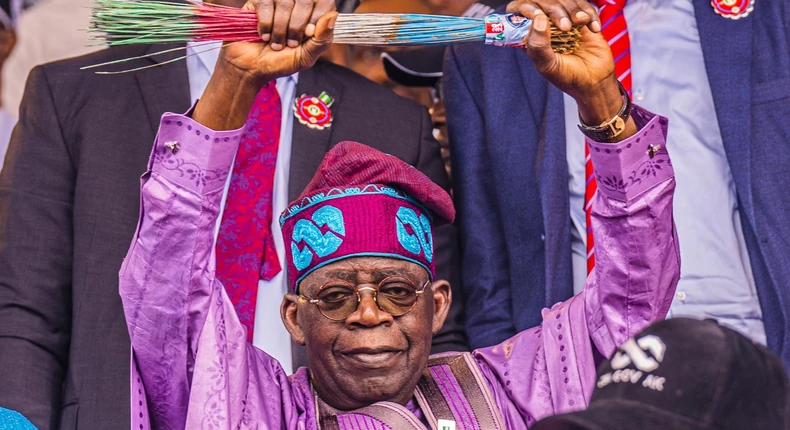 Tinubu was declared the winner after beating out 17 other candidates and meeting the constitutional requirements.
The Independent National Electoral Commission (INEC) of Nigeria has declared Asiwaju Bola Ahmed Tinubu, the presidential candidate of the All Progressive Congress, as the winner of the February 25, 2023 presidential election.
According to INEC, Tinubu beat 17 other candidates after pulling a total of 8,794,726 votes, which meets the constitutional requirements of having a majority of votes and getting 25% of the votes in at least 24 states. The former Lagos State governor got 25% of the votes in 30 states to be declared the winner.
The results of the election, which were announced by the Chairman of the Independent National Electoral Commission, Mahmood Yakubu, disclosed that the presidential candidate of the Peoples Democratic Party (PDP), Atiku Abubakar, came in second at the polls with 6,984,520 votes.
Labour Party's Peter Obi emerged third after pulling 6,101,533 votes, while the NNPP candidate Rabiu Kwankwaso finished fourth with 1,496,687 votes.
Related: There is a plot to overthrow Buhari, Tinubu Alleges
INEC also stated that President-Elect Asiwaju Bola Ahmed Tinubu and Vice President-Elect Kashim Shettima will be issued their certificates of return at the National Collation Centre in Abuja by 3 p.m. on Wednesday, March 1, 2023.
Statistics from the election show that the top four candidates won in at least one state. The trio of Tinubu, Atiku, and Peter Obi won in 12 states each, while Kwankwaso won in only Kano State.
Tinubu won the presidential election in Ogun, Ekiti, Ondo, Rivers, Kogi, Benue, Niger, Kwara, Zamfara, Jigawa, Borno, and Oyo.
Gombe, Sokoto, Bauchi, Akwa Ibom, Osun, Yobe, Adamawa, Bayelsa, Kebbi, Katsina, Kaduna, and Katsina were all won by Atiku.
Peter Obi beat the other candidates in Lagos, Plateau, Enugu, Nasarawa, Imo, Anambra, Edo, Abia, Cross River, Delta, FCT, and Ebonyi.
Saturday's elections were marred by rigging, violence, and other forms of electoral malpractice, a huge threat to Nigeria's democracy.
Former President Olusegun Obasanjo urged President Muhammadu Buhari to cancel elections in areas where they were not properly conducted, but his request went unheeded as Nigeria prepares for another four years of APC rule.